Home prices across Canada have fallen significantly since they peaked last spring, but affordability has not improved.
According to the latest data from the Canadian Real Estate Association, the national average home price sat at $662,437 in February, an 18.9% annual decline. Over the same time period, the Bank of Canada hiked interest rates from 0.25% to 4.5%, leaving many would-be buyers on the sidelines.
To determine where home ownership remains a reasonably attainable goal, Zoocasa compared the median household income with the income required to purchase the average home in 20 Canadian markets.
Average home prices are based on February 2023 data from the CREA, and median household income was sourced from Statistics Canada's 2021 census. To determine the income required for a purchase, Zoocasa assumed a 20% down payment, a 4.74% mortgage rate, and a 30-year amortization period.
Of the 20 markets analyzed in the report, 12 are considered affordable for a median income household. Of those 12, eight are located in the Atlantic and Prairie provinces.
Saint John, New Brunswick was considered one of the most affordable markets for median income buyers — a salary of just $41,513 is required to purchase the average home, priced at $268,400, but median households in the city make more than double that, at $89,750.
The median income in Regina, Saskatchewan ($106,340) is also more than double the income required ($47,963) to afford the average home ($310,200). Edmonton, Alberta, was another affordable option, with an income of $56,438 required to purchase the average home, priced at $365,100. Median households in Alberta's capital city make $107,450.
Although a few pockets of affordability remain in Ontario, including Ottawa and London-St. Thomas, the province was deemed the most expensive in which to purchase property. In Toronto, a salary of $168,712 is required to purchase the average $1,091,300 home. The median household income in the city is just $96,700, though.
The same can be said for Hamilton-Burlington, where the the average home price of $831,300 requires a salary of $128,512, but the median household income is $103,820.
The biggest price discrepancy can be found in Vancouver. The median household income in the city is $98,640, but the income required to purchase the average home, priced at $1,123,400, is $173,663.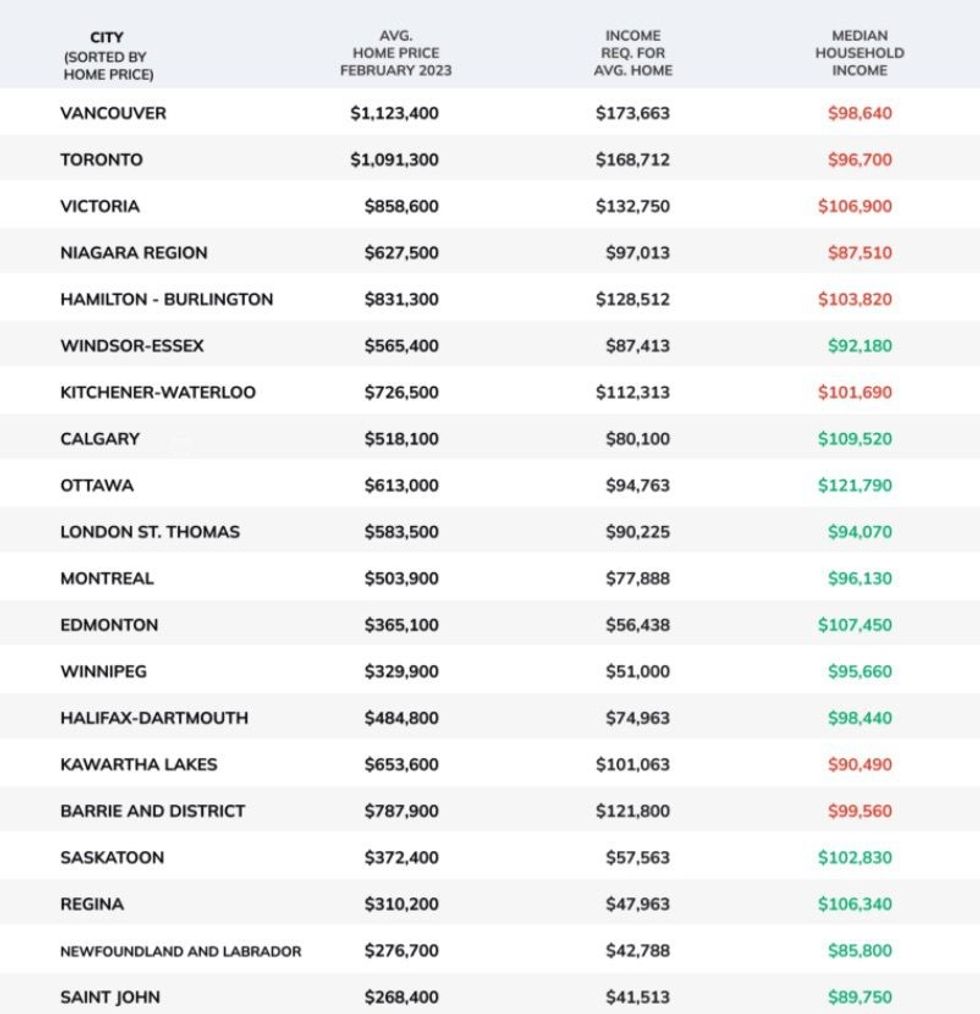 Zoocasa
While affordability remains elusive in many Canadian markets, the situation has improved since the last iteration of Zoocasa's report. Published in October 2022, the report found that only 10 markets were affordable for median-income households.